Press
02. 08. 2013
CS im CCV: Konzertereignis mit dem Mariinsky Orchestra, V. Gergiev, A. Vavic
Russian evening with south wind
You will never regret attending a concert with the Mariinsky Orchestra St. Petersburg under Valery Gergiev. That means concentrated sound power, which gives the music colors and wings, and lets it glow and burn. And if, as on Wednesday, pianist Anika Vavic, a virtuoso with an edge has a finger in the pie, the big CS-evening will turn into an event.
fotka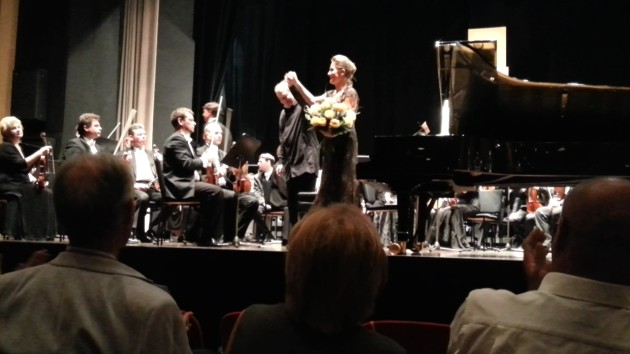 …At the highest level was the Austrian premiere of Rodion Shchedrin's Piano Concerto No. 4. In its adventurous, complicated structures you will clearly find the popular sound-heritage of Russia, as if it were not possible "without". There are, on the other hand, almost surreal, brilliant, sharp instrumental dialogues, such as between strings and winds as well as pounding cadences, but also melancholy moments on the piano. Because this monumental piece is without any flats it is called "sharp keyes" and is only playable by the very best pianists.
The young pianist Vavic, originally from Serbia, has the appropriate skills and temper and release this Shchedrin like a warm south wind under the skin, together with Gergiev's temperament and determination.
Russischer Abend mit Südwind
Ein Konzert mit dem Mariinsky Orchestra St. Petersburg unter Valery Gergiev zu besuchen, wird man nie bereuen. Das ist geballte Klangkraft, die der Musik Farben und Flügel verleiht, sie zum Glühen und Lodern bringt. Und wenn, wie am Mittwoch Pianistin Anika Vavic, eine Virtuosin mit dem gewissen Etwas ihre Finger im Spiel hat, wird aus einem großen CS-Abend ein Ereignis.
Das spannendste dabei war diesmal zu erleben, wie sich zeitgenössische Musik in Russland entwickelt: Ohne mit der gewachsenen charakteristischen Klangkultur der Moderne, eines Strawinsky oder Prokofjew, zu brechen, entsteht hier Neues, das fesselt. Auf höchstem Niveau bewegte sich die österreichische Erstaufführung von Rodion Schtschedrins Klavierkonzert Nr. 4.
Da findet sich in teils abenteuerlich komplizierten Konstruktionen das volkstümliche Klangerbe Russlands so klar und selbstverständlich wieder, als ginge es gar nicht "ohne"; da gibt es andererseits fast surreale, brillante, scharfe instrumentale Dialoge, etwa zwischen Streichern und Bläsern sowie hämmernde Kadenzen, aber auch melancholische Momente am Flügel. Spielbar ist dieses, da ohne b-Vorzeichen, auch "Kreuztonarten" genannte, monumentale Werk nur von einem pianistisch sehr kompletten Künstler.
Die junge, aus Serbien stammende Vavic verfügt über das entsprechende Rüstzeug und Naturell und ließ zusammen mit Gergievs Temperament und Entschlossenheit diesen Schtschedrin wie ein warmer Südwind unter die Haut gehen. Flammender Rahmen: Tschaikowskys "Romeo und Julia" Fantasieouvertüre und Prokofjews "Fünfte". Riesen Jubel nach fast drei Stunden (mit Pause und Zugabe).