Press
07. 05. 2003
A " Rising Star"
Anika Vavic delighted the audience with the Jeunesse Orchestra at the Vienna Konzerthaus.
In the coming season Anika Vavic (b. 1975), following the recommendation of the Vienna Musikverein, will perform at the most highly esteemed concert halls of the world in the "Rising Stars"-cycle. At the Konzerthaus the holder of the Women's Art Prize, accompanied by the Jeunesse Orchestra under its artistic director Herbert Böck, tackled one of the most difficult but also most striking war horses of the piano repertory: Tchaikovsky`s Piano Concerto in B-Flat Minor.
Calm, concentrated and with an extensive as well as diverse range of touches the former Noel Flores student savoured the lyrical passages; without effort and almost flawlessly she built up the complex structure of chords. Vavic did not even allow an idea of sentimentality to come up, but chose to rely on slender articulation and transparence without foregoing a brilliance in skill.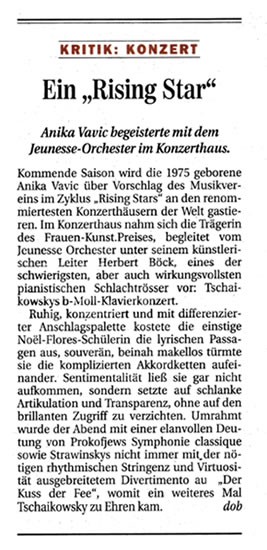 [ original article ]