Press
29. 08. 2013
Curtain Up- Alice Lagnado, Jessica Duchen
"Rostropovich was incredibly strict" - pianist Anika Vavic
In this edition of Curtain Up, VoR's Alice Lagnado and music writer Jessica Duchen talk to Anika Vavic, a Serbian pianist who trained with Russian cellist and conductor Mstislav Rostropovich.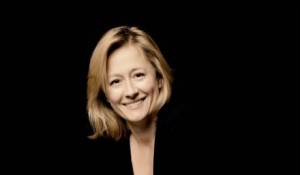 Marco Borggreve
She is making her Proms debut this year with Prokofiev's Piano Concerto No. 3.
Anika said:
"[Rostropovich] was incredibly strict." 
"He told me once, maybe during our second lesson, that nobody was really strict with me and that 'he is the one.'
"He really had a certain opinion how Prokofiev's and Shostakovich's music is supposed to sound, because he knew both of them so well ... he knew how to motivate me with positive comments and compliments."
Anika even learned Russian from scratch in order to communicate better with Rostropovich and her other Russian piano teachers.
Full Interview: http://ruvr.co.uk/radio_broadcast/77030634/120427548.htm