Press
05. 12. 2016
A Rose for the Orchestra
Gérard Korsten, the SOV and a piano virtuoso garnered wild enthusiasm.
FELDKIRCH, BREGENZ. The second subscription concert of the Symphony Orchestra Vorarlberg under Chief Conductor Gérard Korsten on Saturday at the sold-out Montforthaus (with a second date at the Bregenz Festspielhaus on Sunday) – a routine affair, one might think. This time, however, it was the exact opposite. From the first note, it was obvious: conductor and orchestra were not just doing their duty, but were project-oriented and hungry for success. The rose which the fabulous piano virtuoso Anika Vavic plucked from her bouquet at the end and presented to concertmaster Monika Schuhmayer on behalf of the orchestra was more than well-deserved.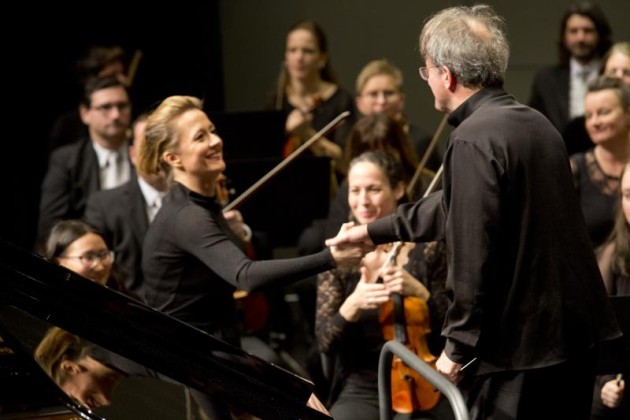 Here was a program which gave the orchestra some challenges to cut its teeth on, which it mastered elegantly. It focused on the "Slavic soul", known for its melancholy [...]
Then on to the encounter with a superior pianist-personality - Anika Vavic, originally from Belgrade - and a work such as Rachmaninoff's Rhapsody on a Theme by Paganini, which is not exactly standard repertoire.
She hit the emotional expression of this insanely virtuosic piece of piano music exactly, unfolding stunning pianistic fireworks in her part, which is very independent yet often intricately interwoven with the orchestra's. However, the composer also demands quick reactions and a variety of sound from the orchestra in these 24 variations, until it shines and shimmers in all imaginable orchestral colors. Occasionally, a forest of strings rang forth above piano cascades, larger than life. The fact that Rachmaninoff occasionally uses snatches of the Dies irae theme here is part and parcel of the "Slavic soul" with its frequent longing for death. After this stupendous act of bravura, the acclaimed soloist thanked the audience with a piece from Schubert's German Dances. [...]
[ original article ]
Translation: Alexa Nieschlag