Press
21. 01. 2021
The acoustics of the empty hall support the airiness of the orchestra, although it is not always easy to attend a streamed concert
Kalevi Aho's cadencas attracted special attention - and let the skills of the pianist Anika Vavic shine.
... Wolfgang Amadeus Mozart's classic Piano Concerto No. 21 is bursting with joy of making music together. Everything is light and airy. The well-known slow movement of the concert, nicknamed "Elvira Madigan", is reminiscent of a soft jazz standard.
The pianist Anika Vavic uses the specific Steinway sound in a unique way. Avoiding the pedal brings out Mozart's virtuoso score in a very pure manner. The focus is on the dialogue, on the development sections of the movements, and on Mozart's wit.
The reason to return to this performance over and over again is a surprising one: the gorgeous cadencas of Kalevi Aho! The first one builds on several opera quotes, while the second one made an impact as a 'cubist, composition. At the same time, Anika Vavic is equipped with precisely the kind of musicality and virtuosity called for by Aho's cadenzas.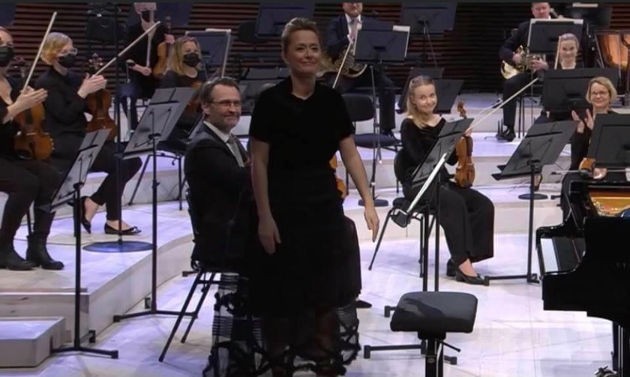 [ original article ]